One sport I really enjoy watching on television is professional hockey. However, since I currently live in the United States and many hockey games are played in the country of Canada, I occasionally see television commercials targeted for Canadians. While watching the other night I came across a funny commercial promoting the .CA domain extension. Although it seems unlikely to see a domain registration commercial in the break of an NHL hockey game, it does make some sense. Overall, it wouldn't surprise me if men registered more domains than women do. It also wouldn't surprise me to hear that more men watch hockey than women. Apparently, the .CA registry wants Canadians to Choose .CA!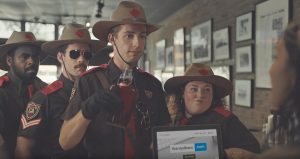 These cops will pour syrup on your laptop if you choose .COM over .CA!
Canada's top level domain (.CA) is managed by CIRA, and their new commercial urges residents to choose the .CA extension over the .COM extension. The advertising campaign is called Don't Be a Traitor and I must say, the commercial is pretty clever and hilarious. When you think of Canada as a country and what many Canadians are probably like, this commercial fits right in! The ad features Canadian police (also referred to as "mounties") busting people for choosing the .COM extension for their web address.
Here's the video:
I don't know about you, but getting maple syrup poured all over my keyboard doesn't sound like much fun. If you try visiting the .com domains featured in the commercial you'll find they all lead to actual websites promoting the campaign. The ad campaign also has its own domain name, Choose.CA.
After investigating further it appears CIRA plans to run these ads in the Toronto area from September 23 until November 17. It will also be featured on different streaming services and in cinemas in the area. This also makes perfect sense considering I was watching a Toronto Maple Leafs hockey game between those specific dates!
A little bit more about CIRA
As previously mentioned, CIRA is the organization that manages the CA country code TLD (top level domain). CIRA is an organization which is completely member-driven. Membership in CIRA is included in the cost of a .CA domain registration, and open to anyone who holds one. There are approximately 15,000 CIRA members as of January 2013. The company was first incorporated back in 1998 and assumed operation of .CA on December 1, 2000 from the University of British Columbia. CIRA is currently based in the national capital of Canada, Ottawa, Ontario. A Board of Directors, consisting of both elected and appointed members, sets CIRA's strategic directions. Board members are elected annually by CIRA Members through an online process which anyone who holds a CA domain can participate in. Some critics feel that CIRA currently has a monopoly on all .CA top-level domain management.
Personally, I think if CIRA would open up registrations to everyone around the globe they would begin to notice hundreds (and likely even thousands) of additional domain registrations and probably wouldn't even need to run commercials. This one was pretty funny, though!