It's no secret that Godaddy has really expensive prices when it comes to charging for all of their products, including domain registration. One great alternative to Godaddy is Bluehost. BlueHost is a domain and web hosting service offering great features like unlimited disk storage, FTP access, spam protection, site statistics, and more. If you currently use BlueHost for your hosting needs then transferring your domain there can make billing and management easier since you can do all of that from just one place. Below I will show you how to transfer your domain name from Godaddy to Bluehost in just 12 simple steps!
Before you start, you must meet the following requirements:
1. The remaining time in your domain name's expiration date must be more than 15 days.
2. The first registration date of your domain name is more than 60 days ago.
3. You can transfer your domain only if it has one of these extensions: com, net, org, info, co, us, and biz.
How To Transfer Your Domain From GoDaddy To BlueHost
1. Open domain settings – Login to Godaddy and visit the Products page. Then, choose the domain name you wish to transfer and click on Manage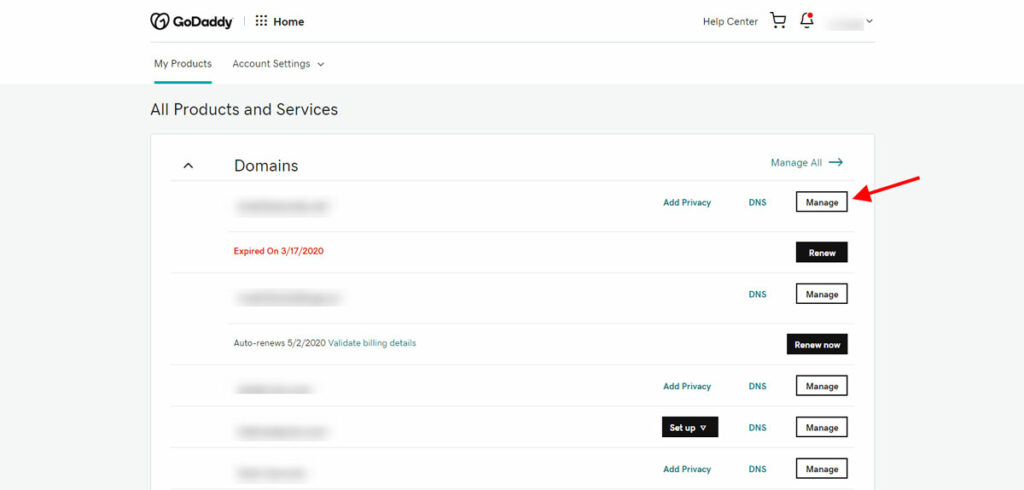 2. Check Your Whois Contact Information – Next, you should check that your domain contact information is correct. This is important because Godaddy will send a unique authorization code to your Whois email address, and that code will be needed to complete the domain transfer. If you need to update your contact information in Godaddy you can see how to do that here.
3. Disable Privacy Domain Protection – If you've purchased domain privacy then you'll want to disable it before initiating the transfer. From the Domain Control Center, select your domain and scroll down to Privacy Settings, then select Turn Privacy Off.
4. Change Name Servers – When transferring a domain it's important to have as little downtime as possible. If your domain servers need to be changed to Bluehost then we recommend doing this before you initiate the transfer. NOTE: If your nameservers are already pointing to Bluehost or your desired web hosting provider then you do not need to change them.
5. Unlock Domain Name – Next, you need to unlock the domain. You can do this by switching your locking status from ON to OFF. Once this is done, it can take 2-5 minutes for it to update.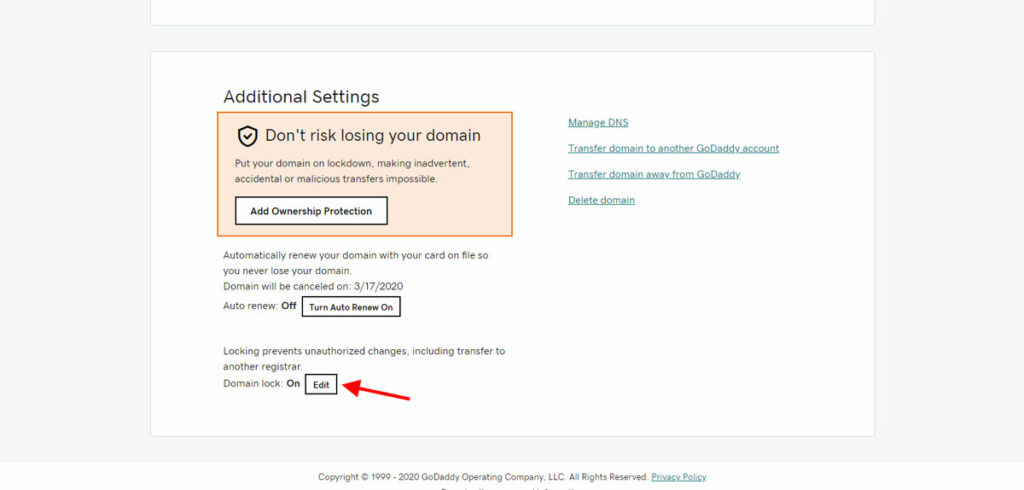 6. Get Your Authorization Code EPP – Now that your domain is unlocked, you're ready to get your authorization code. Before you do this, double check one last time if you have the right email address specified in your contact information. This is where Godaddy will send you the authorization code for the transfer. Press "Get authorization code", and you will shortly receive an email containing your EPP authorization code.

After you click on the link, you'll be taken to another page, proceed afterward to the next page, and your authorization code will be sent to your email, and you'll also have the option to view your authorization code from that same page.
7. Get Started With Bluehost Domain Transfer – Great job completing all the required steps from inside GoDaddy! Now with Bluehost, start by logging in and clicking on Domains, then Transfer.
8. Add Your Domain Name – Enter the domain name you wish to transfer.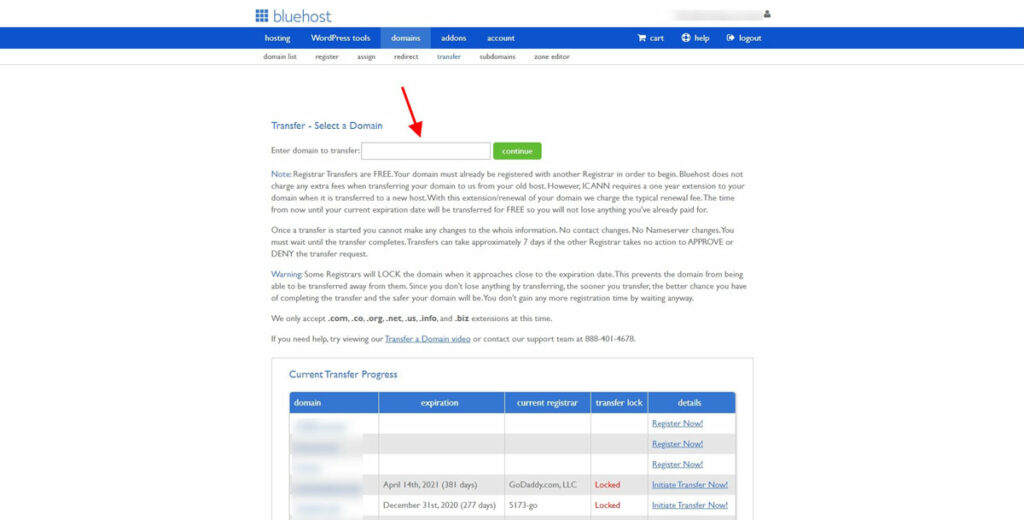 9. Add Your Authorization Code – After entering the domain name, you'll be asked for your EPP authorization code. Add the code you received in your email from Godaddy.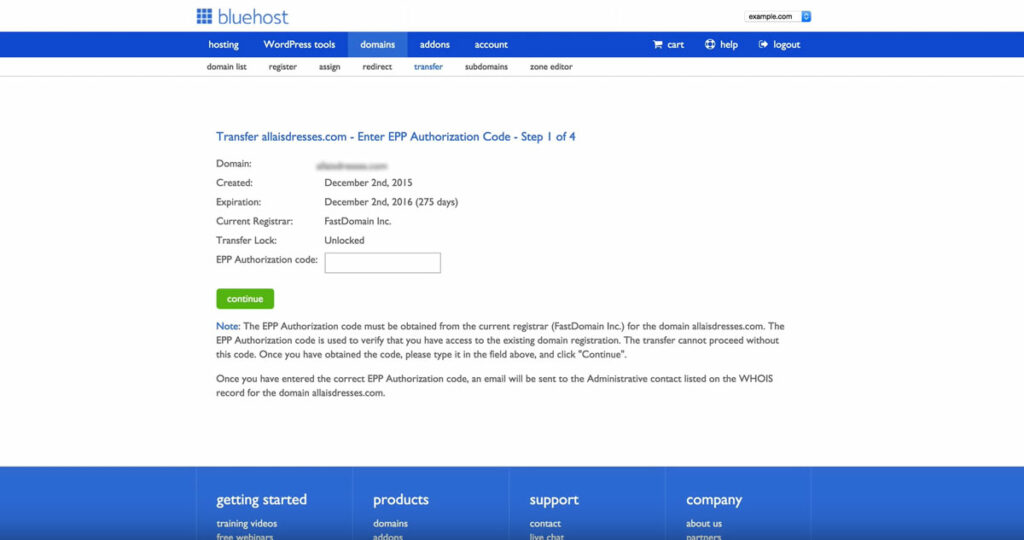 10. Transfer Settings – In the contact information section, you can choose the credentials that will display as the contact information for your domain.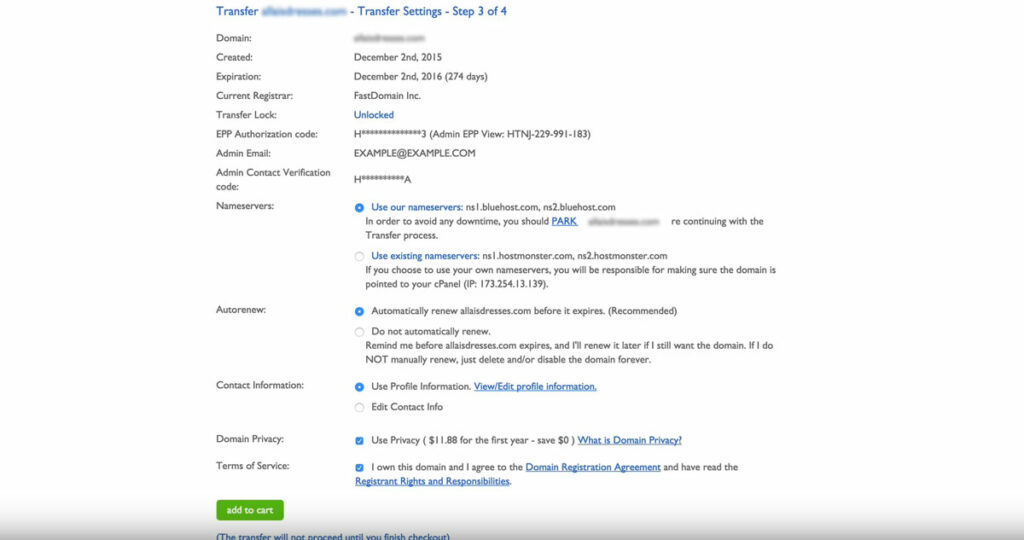 11. Domain Name Transfer Payment – The final step in this process is making payment. On the checkout page, make sure to select at least 1 year as quantity for your domain.
12. Check The Progress – A domain transfer usually takes between 5 and 7 days. Meanwhile, you can check the progress by going to Domain Manager then on Transfer EPP under the details, you can see the current status of your domain transfer.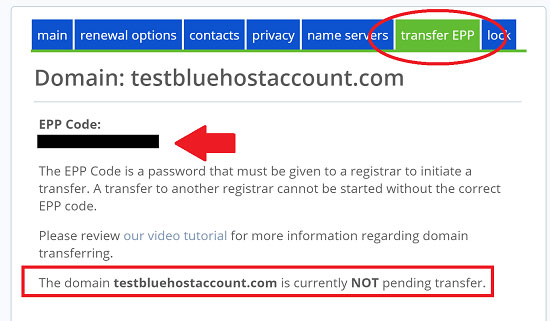 That's it! You've now successfully initiated a domain name transfer from GoDaddy to BlueHost. Now you realize that it's not as hard it seemed the first time. If you run into any troubles during this process, don't hesitate to contact GoDaddy or BlueHost. Also, I would like to add, you should also consider moving your emails as well. There is no point to keep paying Godaddy for that service when you can have the same service with unlimited email accounts for free with Bluehost.