Brandable domain names' marketplace
From seller's point of view

Listing fees

From buyers' point of view

Popularity
Summary
Brandbucket.com is designed for end users that want to buy brandable domain names. All domain names come with a logo and have to be redirected to their landing page.
Where would you sell your domains? Your answer would probably be GoDaddy or Flippa, where you can list and hopefully sell your domains right away in an auction. If you have a bit more time and want to maximize the selling price then you would opt for Sedo or Domainnamesales. Similarly, if I asked you where you would buy domains? Probably your answer would be the same with Namejet and Snapnames added to the list.
The answer has a consequence: in the marketplaces listed above, mainly domainers and not end users are present. Although my history of domain sales is not relevant statistically, I can confirm this statement: a follow-up on my sold domains, with the exception of domains sold at GoDaddy Auctions, practically no website is running, the domains are relisted for sale at a higher price. However, I am always happier to sell my domain to an end-user: nice to see a website running on a domain, and end users tend to pay more for the domain name they desire. Of course, you can always make an effort to find the end user on your own by creating landing page or through trying to directly contact potential buyers. Both of these takes time and effort you do not necessarily want to invest.
No problem: there are marketplaces out there focusing on finding end users. The keyword to find end users is 'brandable'. A domainer would never pay thousands of dollars for hand registered domain with no history,  keyword or type-in traffic – but an end user is not that tasty in this aspect. Recently, end user focused marketplaces have appeared, where the domain catalog can be found with a nice logo ready for launching a business with brandable names. Among these marketplaces are Brandroot.com, Namerific.com and the earliest and the most popular is Brandbucket.com founded by Margot Bushnaq.
In fact, Brandbucket's secret is very simple: they put themselves into the end users' mind instead of domainers'. Thus, they create a nice logo for every domain. They do not use any statistic a domainer would be interested in: history, age, backlink profile etc, all they want is a nice sounding, non-keyword, short mainly .com (.ly, .io, .me) domains.
The homepage uses special design elements to attract visitors and the domains are presented in a Pinterest like design.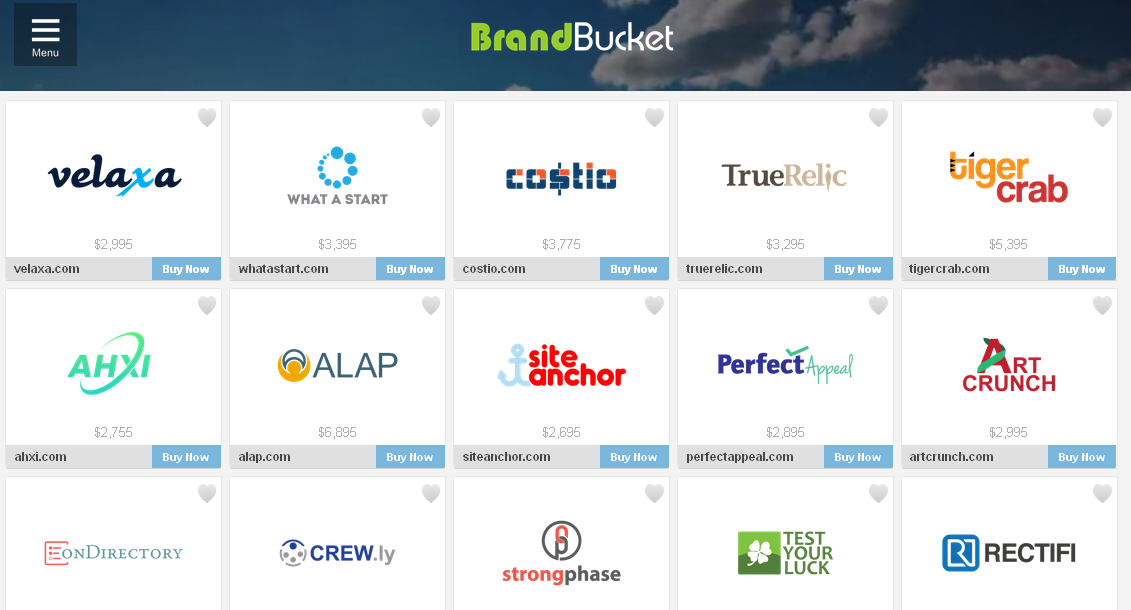 Homepage of BrandBucket: attractive presentation makes domain names more desirable
They have a gorgeous and well designed landing page for all their domains. Landing pages are responsible for a large portion of domain sales – and their landing page is designed to attract end users.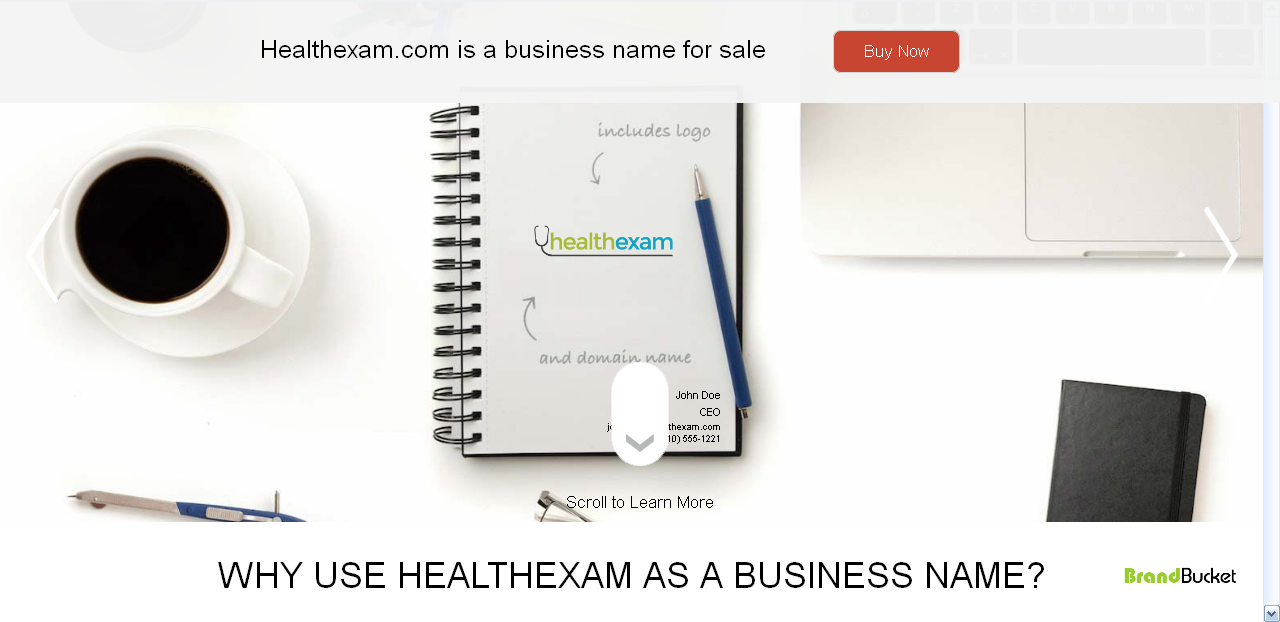 Sellers are required to use the gorgeous landing page of BrandBucket
Currently, more than 20 000 domains are listed on their page. They hit 1 million USD in sales in 2013 with the average selling price for a domain of 3 000 USD. That means that a bit more than 300 domains are sold yearly meaning an extremely high conversion rate as compared to other marketplaces.
They are very careful with the selection: their acceptance rate of submitted domains went up from 8% to only 25%. BrandBucket is very clear about selling brandable domain names only: they do not accept domains which would be valuable for a domainer: no keyword match or "just" old or good backlink profile domains are accepted.
About 2% of the domains become "staff selected", which obviously accelerates and promotes the sale. And 25% of the staff picked domains have been registered in 2015. So this is the place to sell hand-picked domains.
Let's see what this marketplace offers for domainers:
Sale of hand registered domains
Sale of 4 letter .com domains
They do not value domain age or backlink profile
Acceptance rate of submitted domains is 25% (went up from 8% this year)
The acceptance of a submitted domain is extremely long: couple weeks or even months plus 2 weeks for logo design
There is a listing fee for accepted domains of 10 USD
The domains have to be redirected to their landing page
The listing is exclusive, cannot be listed anywhere
Removing a domain from their marketplace takes time: it will be continued to be listed for a further 30 day period
Commission rate is 30%
So this is a special marketplace for selling brandable domains with a pretty high conversion rate.